MAKING METAL
CAPABLE OF MORE
Found in everything from industrial toasters and riding mowers to submersible pumps and refrigerators, highly specialized powdered metal parts are engineered with unique characteristics and specific tolerances to help companies take products to the next level. Economies of scale come with cost-effective reproduction of engineered metal parts, spreading savings over years.
Embassy's engineering expertise, collaborative approach, and extensive factory operations offer customers an innovative partner in their success.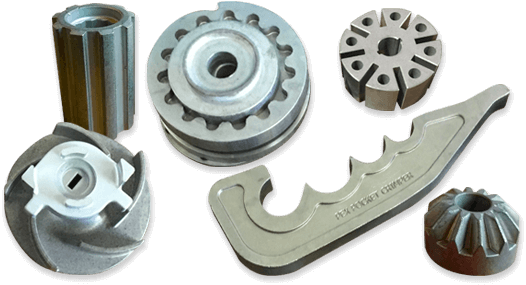 PRODUCTS & MARKETS
From gears and structural parts to clutches and internal mechanisms and more, Embassy engineered powdered metal parts improve the performance of countless products across a wide range of markets.
MATERIALS
Working with a wide range of powdered non-ferrous metals, steels, and special alloy blends, Embassy collaborates with customers to improve the capabilities of sintered parts—blending materials to meet specific applications such as self-lubrication, increased tensile strength, greater machining capacity, and much more.
Presses
Operating single- and multi-level presses ranging from 5 to 550 ton

Ovens
Heating to 2,100˚ F with extreme hardening capabilities allowing us to heat treat parts through sintering

Machining
Fully automated computer numerical controlled machines capable of milling, drilling, tapping, and turning. Pre- and post-heat treat turning capability for tighter tolerances.

Sizing
Semi-automated sizing capability raging from 15 to 60 tons

Tool Rooms
Two tool rooms in separate facilities provide safe storage of uniquely designed customer tools in a clean, element-controlled environment to protect investment and shorten response time.

Quality Control
Embassy quality control professionals work in two fully equipped labs in separate facilities, where parts undergo careful scrutiny on industry-standard testing equipment ensuring uniform size, density, strength, tolerances, and more every time.

Raw Material
With ready access to a range of raw material including brass, bronzes, irons, and 300/400 series stainless steel, our just-in-time working relationships with local powder vendors translates into more options and faster turnaround.

Shipping
Saving time and expense, Embassy's two company-owned trucks move products locally between secondary processes, such as plating and heating.

Workforce
A growing company in an area rich with sintered metal expertise, Embassy's award-winning commitment to community is reflected in our mission of training and promoting staff from within.
Putting more into powdered metal, so you get more out of it
Let us show you how our unique combination of engineering expertise, production capabilities, and commitment to personalized solutions can make all the difference.
We are ISO Certified